How to find and merge all your lost super accounts in three easy steps
It's human nature to avoid painful administrative tasks – even when completing those tasks results in clear benefit.
Superannuation is one of those tasks. Recent ATO stats suggest too many taxpayers are setting-and-forgetting their super responsibilities; in 2014, $14 billion in lost super went unclaimed. With the advent of MyGov, though, it's now easy for taxpayers to keep track of their super. The portal comes with a host of handy features – the handiest of which may be the super consolidator.
The average taxpayer wouldn't be to blame for thinking super account consolidation costs a pretty penny. That may be why billions of dollars in super are still out there in long-forsaken funds. For lots of career-hopping taxpayers, the story is the same: Your first employer sets you up with an industry fund. When you move on to your next employer, you get set up with another industry fund. You figure getting a new fund is easier than digging up the information for your first fund. Add another job and another fund, and the setting-and-forgetting becomes a slippery slope.
Why does rolling all your super accounts in a single account matter? Each account you have is subject to fees which essentially erodes the balance of each account. By having a single account – you will be only paying fees for the one account.
Rolling all your super accounts into a single account is completely free using MyGov. Here's how you do it.
1 Log in to MyGov and navigate to the 'Services' tab
You have to make sure you're linked to the ATO. Click on the 'Australian Taxation Office' link.

2 Click on the 'Super' drop-down tab and click on the 'Transfer super' button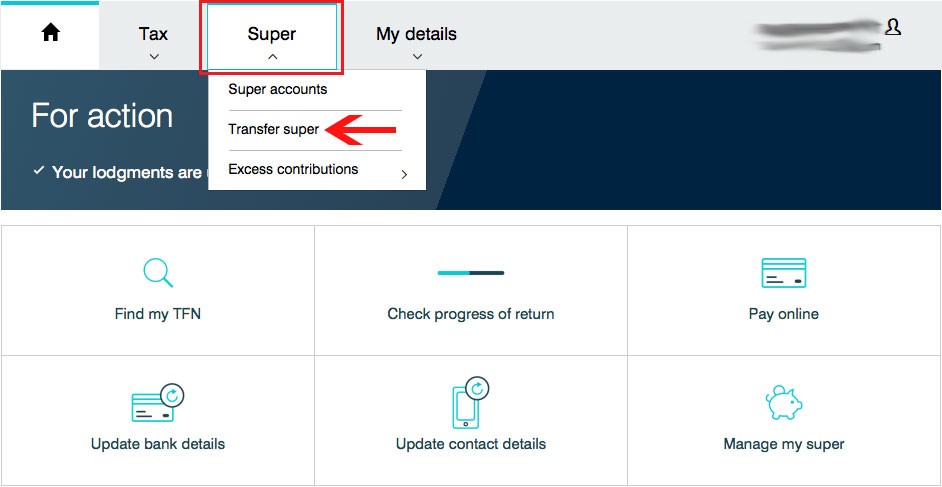 3 Choose the super accounts you want to transfer
The ATO will let you know if you don't have any accounts eligible for transfer.

It's that easy!